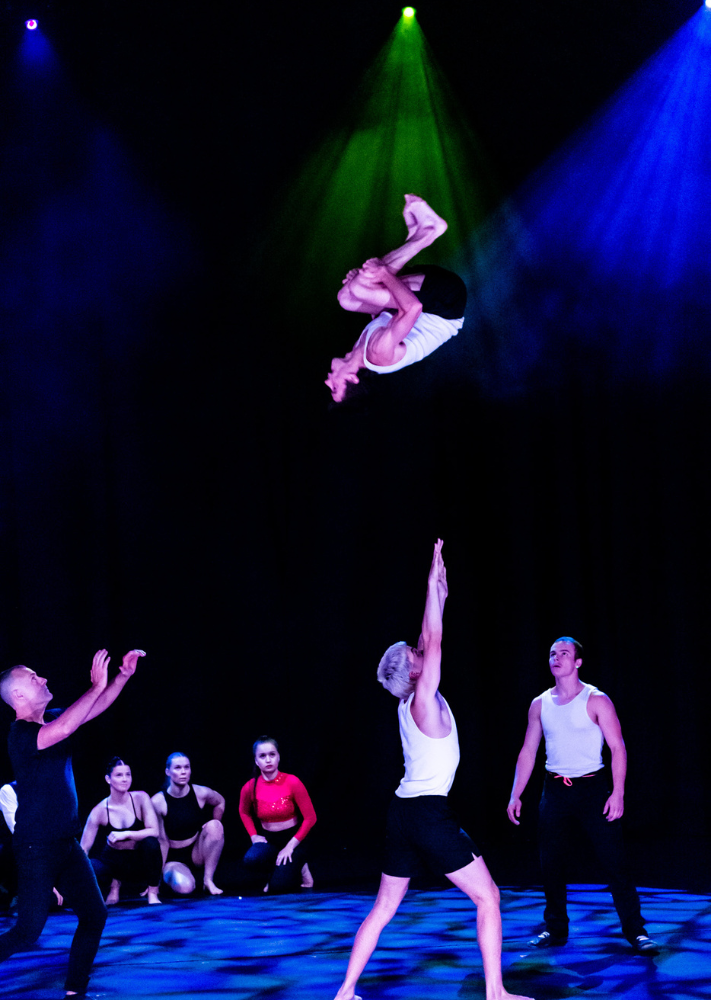 To become a full-time student at the Flying Fruit Fly Circus you must be aged 8 or over, have your parents or guardians permission and participate in our audition process.
Applications are now open for 2024. Complete your application by Friday 15 September.
The auditions for 2024 enrolment will be held on Thursday 28 and Friday 29 September 2023. This includes time for interviews scheduled with each family to meet with our circus staff. Offers of a place will be communicated to successful participants in writing.
All successful students attend our select-entry academic school, the Flying Fruit Fly Circus School, for years 3-9, thereafter the Wodonga Secondary Senior College.
Find out more about auditioning and joining the Fruities by reading our FAQs below!
Frequently Asked Questions
You need to be entering Year 3 in 2024 (about 8 years) and have your parents or guardians permission (of course!)
We are happy to audition potential students up to Year 9 – that can be either 14 or 15 depending on what age you started school. We will consider auditioning older potential students on a case by case basis.
Participants are not required or expected to have any previous circus experience. Our circus features students from lots of different backgrounds including theatre, gymnastics, dance, parkour as well as those that are great at climbing trees. If you have a passion for joining the Flying Fruit Fly Circus then why not audition.
We ask that you wear comfortable clothing that doesn't restrict movement. If you currently use orthotics, ankle guards or strapping tape then please bring that with you.
Water bottle
Any orthotics, ankle guards, strapping tape or medication as you might require
A great attitude!
The best advice we can give you is to be calm and confident. Our trainers are experts at looking for the skills, sparkle and potential needed to be a part of the circus. If you have fun and be yourself you will perform your best. Talk to us, tell us about yourself, give us a smile and enjoy the experience!
If you are unable to attend the audition in person we ask that you upload your video audition along with your application (time limit 5 minutes). Please read the guidelines and watch this video.

Introduce yourself
Conditioning:

chin ups & push ups (max 10 each)
leg lifts (max 10, on rack or bar)
1 leg squat (film facing front of student, max 10)

Flexibility:

Middle, left and right split
Back arch
Sitting pike (legs straight)

Skills: circus, tumbling, skate boarding, juggling, singing, dancing, gymnastics, theatre, diving, trampolining etc. These can also be included in the video.
Act: showing transitional movement and sequence (optional), please limit to 2 min max.
We recommend considering the following while filming your audition:

Film in a clear, well-lit space. We need to see you!
Ensure your full body length is visible.
Position the camera at an angle that shows you at your best.
Use a tripod to ensure a stable image.
Check the quality of image and sound prior to submission.
This is something only each family can decide. If your child is within the age group and enthusiastic then we are happy to welcome them to an audition to experience the process, meet us and find out more about the circus. We do our best to make the experience welcoming and fun.
We encourage each person auditioning to be in good physical condition because we don't want anyone to injure themselves. You might have a special skill that you would like us to see so make sure you have that up your sleeve. Make sure you have a good night's sleep beforehand and eat a good breakfast so you have energy for the day.
When you arrive the trainers will introduce themselves and run through how the auditions will happen.

Trainers will be conducting generalist workshops looking for suitable students who show the potential for a future at the circus. Attributes assessed include attitude, creativity, agility, balance, dynamics, fearlessness, flexibility, fitness and strength.
The auditions are run by our Circus Program team, led by our Artistic Director Anni Davey and our Leading Trainers Bec Neill and Ben Lewis.
The general audition is a half day workshop and is open to all applicants. After this a number of applicants will be selected to participate in another day of workshop and training, and family interviews. These help the trainers and families find out more about each other and if the circus and our school is the right fit for you and for us.
The auditions happen at our Creative Headquarters in Albury. We have all of the equipment needed for the auditions and you and your family will get a chance to see everything we have on offer.
We will send out letters of offer two weeks after the auditions. The letter will ask you to respond (accept or reject the offer) by a specific date.

Before the end of the year we will run a number of transition days so you can meet the other students, both new and currently enrolled, and get familiar with us, with the school and what to expect for your future schooling.

When you accept the offer you will also need to enrol in the school, purchase your school uniform and get ready for the 2024 school year.
We do ask that our students from years 3 – year 9 attend the Flying Fruit Fly Circus School. It is a specialist selective school situated on the same grounds as the Felltimber Campus of Wodonga Middle Years College.
No, our school is a select entry public school. What that means is that from years 3-9 only students that are a part of the Flying Fruit Fly Circus go to the school. From Year 10 onwards students join the Wodonga Senior Secondary College.
Each term families are required to pay a fee that supports the costs of training and touring. This equates to roughly 25% of the total cost of each student's individually tailored circus training, and a variety of performance opportunities including local, regional and national touring.
It is always a hard moment when we don't have a place for a student in our program. This doesn't mean it is the end of your Fruit Fly Circus experience. You might want to think about enrolling in one of our public classes and you might also want to think about auditioning again next year.
We don't have a set number each year. We are looking for potential students that complement our student group.
Is that fire still burning in your belly? Are you within the age range we are looking for? Then why not audition again.
Please note that there is no cover for program participants under our insurance other than public liability. For all head and neck injuries our policy is to call an ambulance. Therefore we strongly advise all participants to take out ambulance cover if they do not already hold it.
All of our trainers hold current Working with Children Checks and First Aid Certificates. We have a strong commitment to safety and stringent WH&S policies and procedures including Safety & First Aid Officers on the floor for each class, fortnightly equipment checks and systematic weekly, monthly, bi-monthly rigging checks.
Three mornings a week the Fruities have morning training from 8.30am at our Albury training space. Our dedicated bus then takes them to school for lessons. On the other days of the week students arrive at school no later than 8.45am.

We do all the normal school things like assemblies and classes, and our students participate in interschool sporting events with the Felltimber campus. Because our students are all together there are a mix of ages and year levels working together which we know creates a very supportive and collaborative learning environment. Some could even call it a family or community environment.

Like at any school each student's timetable will depend on which training group you are allocated to and what year level you are in. There is a weekly routine each student follows which includes in-school (during school hours) and after school training sessions offering between 10 hours (the younger cohort) and 20 hours (for older students) of skills and performance training per week. Fruities generally don't train on the weekends or during school holidays unless we are in rehearsal or creative development for a show.

And don't forget that all students receive the same number of teaching hours as any other school, giving them access to a great education plus world class circus training.

They will also be extremely fit!
We are lucky enough to have a dedicated Fruit Flies school bus service which takes our children to and from the school in Wodonga and training facility in Albury.
We have been educating students since 1979 and the future path of our graduates is diverse. Sure, some of them end up touring the world as professional circus artists. Others continue a career in the cultural sector. Others become small business owners and entrepreneurs, go to University or have careers in education and management. Wherever they go, they go with confidence, courage and an aptitude for creative thinking, attributes that are highly valued in every walk of life and industry.

The Flying Fruit Fly Circus is unique in Australia and you have a chance to join this amazing community. You know that saying – 'It's a once in a lifetime opportunity' – that's why we think you should do it!
For some of the students it can be a very daunting idea to leave their current friend group and leap into the unknown. From our years of experience what we know is that this transition is made easier by our community school feel and that each and every student who is already enrolled has had the exact same experience and so can support our new students. What you can be confident in is that friends will be made, fun will be had, and after a little while it will all feel normal.

We are also happy to support each family as we work together to make this transition as easy as possible so let us now your thoughts on what might help. We are one big circus family after all.
Login or create a free Vimeo account and follow the instructions to upload your video. Set the video to private using the 'Only people with a password' setting. Paste the video URL/link and the password into the application form where instructed.
Login or create a free YouTube account and follow the instructions to upload your video. Edit the video's 'Visibility' to 'Unlisted'. Paste the video URL/link into the application form where instructed.