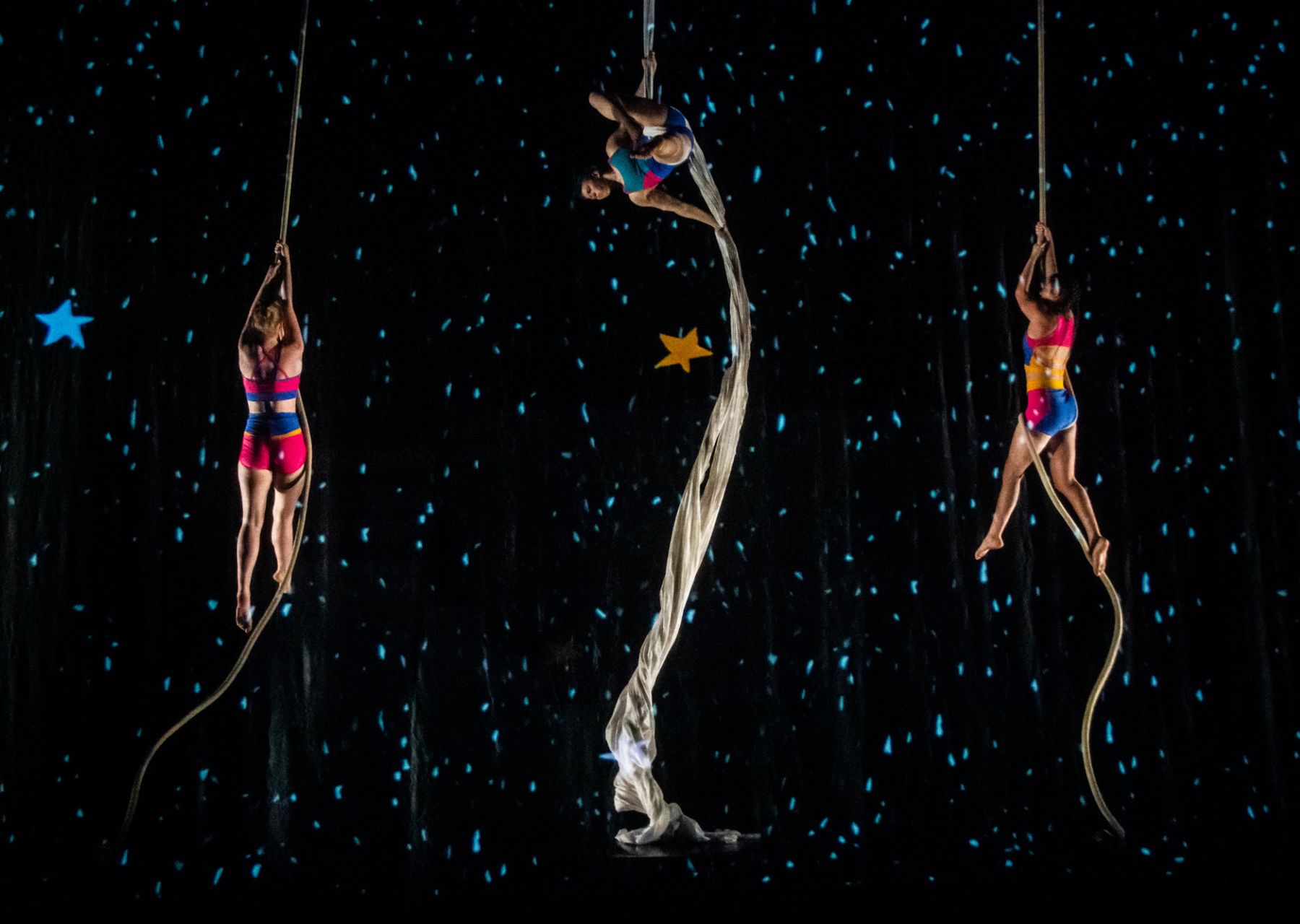 February 18, 2022
GIRLS WITH ALTITUDE PREMIERES AT THE CUBE WODONGA
---
NEW FRUIT FLY CIRCUS WORK 'GIRLS WITH ALTITUDE' PREMIERES AT THE CUBE WODONGA 24 – 26 FEBRUARY 2022
The Flying Fruit Fly Circus will premiere our new work Girls With Altitude at The Cube Wodonga next week, 24 – 26 February. As Australia's National Youth Circus, the Fruities have called the Border home since 1979, and are proud to continue to premiere their new major works for the local community first.
In development since 2019, Girls With Altitude combines the cartoons of celebrated Australian artist Judy Horacek (Where is the Green Sheep?), with the world-class skills of the young artists of the Flying Fruit Fly Circus.
From the environment to equality, the young acrobats of the Fruit Flies propose new perspectives on the future using their famously exuberant mix of youthful energy and high-level circus skills. They combine energy, expertise, and commitment to demonstrate in a most spectacular and joyful way, the limitless potential of young people. Featuring an all-girl cast ranging in age from 12 to 18, Girls With Altitude is a show for our time, a spectacular production with aspirational themes that all the family will enjoy together.
Just as in Judy Horacek's most well-known book (with Mem Fox), in which a search for the Green Sheep uncovers that there are many different sheep, I hope that our show Girls With Altitude demonstrates that "a girl" can be anything or anybody she wants to be. We want to inspire our audiences to believe that they can do anything, that they don't have to be restrained by expectations, labels or 'shoulds'.

Anni Davey, FFFC Artistic Director
The circus will premiere the show with 5 performances at The Cube Wodonga, before hitting the road on a ten-venue tour across New South Wales, Queensland, Northern Territory and Victoria in March and April, continuing to tumble into the hearts of millions of people throughout Australia and the world.
Tickets are now on sale from The Cube Wodonga Box Office, phone (02) 6022 9311 and www.thecubewodonga.com.au
Girls with Altitude is presented by Flying Fruit Fly Circus and The Cube Wodonga. The work has been supported by the Australian Government through the Australia Council, its arts funding and advisory body, and by the NSW Government through Create NSW.
Girls With Altitude
24 – 26 February 2022
The Cube Wodonga
Book tickets
Image: Girls With Altitude 2022, credit Ian Sutherland