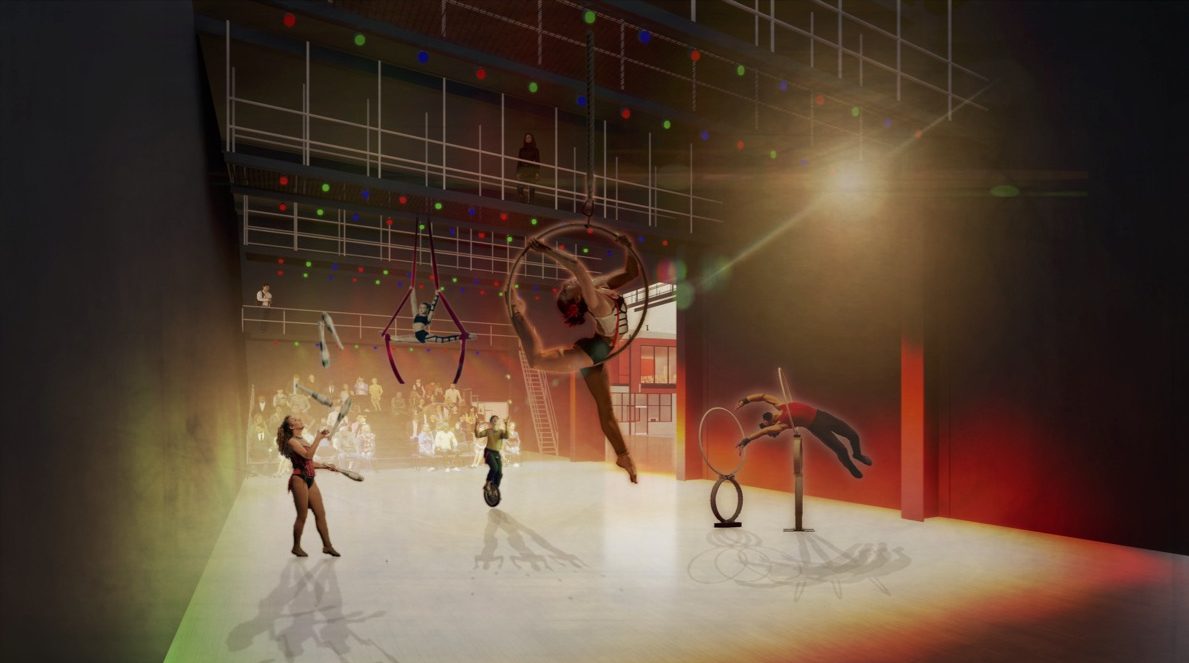 We invite you to be part of the next stage of our evolution!
We are expanding our facility in Albury to create a dynamic circus hub that will connect our world-class training space and rehearsal rooms to an exciting new space, the Borderville Theatre.
Creative Vision
Circus is about performance, and we train our students to be artists. Despite being founded in 1979, we have never had a permanent, fully equipped performance space.
Until now.
The Borderville Theatre is designed for a close-up circus experience with a capacity of 100 reflecting the type of rooms many of our graduates work in as they begin their professional careers. But it is carefully designed for circus. It will have a flexible floor space of 24 x 10m, a height of 8m, and retractable seating for 100. It will have state of the art rigging, lighting, sound and video systems. The project will be completed with two dressing rooms and a new workshop area.
The Borderville Theatre will provide a space for artistic exploration and innovation with a clear purpose to support the development of new contemporary circus works.
This is an important new learning space for our students, where the technical and production elements of our artform can be taught and practiced. But we are also building a national asset for our physical theatre sector. Australia's circus engine room. And everyone will be welcome.
The Flying Fruit Fly Circus will evolve into a complete home for our extraordinary artform, where an original idea can grow into a fully produced show ready for touring, under one (high) roof.
The Borderville Theatre is due for completion in November 2023.
Project Partners
This project has been made possible by a $3.3M investment from the NSW Creative Capital Fund. Further support valued at $600,000 is being provided by Flying Fruit Fly Circus, AlburyCity, Joss Construction and JWP Architects.
Be a part of our history
We are seeking to raise an additional $200,000 to complete the venue fit-out with new circus equipment. For a $100 donation, or $1,000 if you're a local business, your name will forever be displayed on our Founders Wall in the entrance lobby of the Borderville Theatre. Immortality!
For more information about our fundraising for the Borderville Theatre, or to make a larger donation, please get in touch with Tahni Froudist, our Executive Producer, at tfroudist@fruitflycircus.com.au